Nexus Repository
 
Nexus Repository Pro
Manage and distribute components across your software supply chain.
The world's most popular repository
Give your team a centralized repository for managing all popular component formats.
Gain insight into component security, license, and quality issues.
Improve productivity by efficiently distributing components to developers around the corner, or around the world.
Modernize software development with intelligent staging and release functionality.
Sleep comfortably with world-class support and training.
Universal support for all popular formats
Store and distribute Maven/Java, npm, NuGet, RubyGems, Docker, P2, OBR, APT and RPM and more.
Manage components from dev through delivery: binaries, containers, assemblies and finished goods.
Awesome support for the Java Virtual Machine (JVM) ecosystem, including Gradle, Ant, Maven and Ivy.
Compatible with popular tools like Eclipse, IntelliJ, Hudson, Jenkins, Puppet, Chef, Docker and more.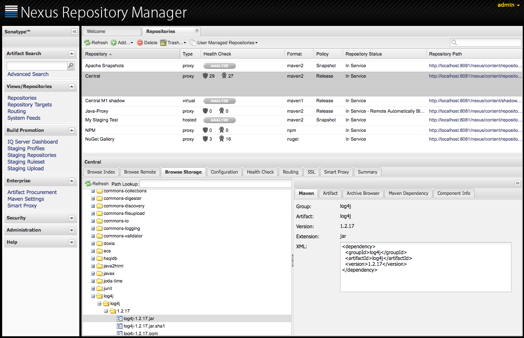 Healthy parts make healthy software
Repository Health Check (RHC) provides up-to-date component intelligence, so your teams make informed decisions early on.
View the top five components in need of remediation, prioritized by the severity and impact of the vulnerability.
Learn how often a component is being downloaded and view trending information over time.
Quickly learn the best way to remediate a vulnerable component, i.e, replace it or update it with a new version.
Easily avoid known security and license issues for Maven/Java, npm, NuGet, and PyPI components before they are used in your applications.
Start using RHC 2.0 today.