Issue & Defect Management

Issue management for the most demanding projects.
Why TestTrack for Issue and Defect Management?
You get unmatched flexibility and choice. From no security to impenetrable, simple to complex workflows, desktop client to browser, a few fields to hundreds, and on, and on, and on, TestTrack is infinitely capable and configurable.
Our powerful workflow engine can model and automate the most complex processes—even if external applications are involved—keeping development and QA at full stride.
High scalability means you don't sacrifice performance as you grow to thousands of users or hundreds of thousands of issues. When reliability is important, TestTrack is essential.
Rock-Solid Issue Management.
All issues are welcome.
Create, organize, and track hundreds of thousands of defects, feature requests, change requests, and all other work items.
It's about the results.
Let us help you track the results and measure progress. Do you know how much work remains? Can you spot the bottlenecks? That's where we come in.
From the smallest details…
Issues can have lots of details. We make it easy to track it all—from steps to reproduce and screen captures, to source code relationships, to the originating test case or feature request, we track every detail.
…to the largest projects.
You won't outgrow TestTrack as your project grows. We can handle your largest projects and, importantly, remain responsive.
Be incredibly organized.
With tabs, folders, custom fields, and filters—our organizational tools make fast work of keeping your issues organized.

More than one person reported it?
Our multiple-instance tracking lets you consolidate identical bugs or feature requests into a single record. Now you have the ability to more easily spot hot bugs or rank feature requests. We still track the unique details so you can get at them when you need them.
Show Your Customers How Much You Care.
The customer comes first.
Whether internal or external, your products have customers and they report stuff. TestTrack keeps track of your customers to make it easier for you to support them.
You've got mail.
Email is the engine that drives customer support. TestTrack automatically imports mail for you, parses it, and can even send the customer an acknowledgment. Your customers know you care and you have more time to respond to their issues.

Feedback takes many forms.
Show your customers their opinion counts by giving them multiple ways to provide feedback. Our customer feedback components, SoloBug and SoloSubmit, provide efficient ways for customers, beta testers, and other external team members to submit bug reports and feature requests.
Cross-platform SoloBug is a stand-alone bug reporter that customers and beta sites can use to email bug reports and feature requests directly to TestTrack. You customize SoloBug with your terminology using TestTrack and provide it to your customers. To submit an issue, they simply launch SoloBug, enter the bug or feature request information, save the file, and then email it to you. An issue is automatically created every time a SoloBug file is imported into TestTrack.
Web-based SoloSubmit allows an unlimited number of team members and customers to submit issues and feature requests online. You can customize SoloSubmit to match your Web site's design. Include all your bug reporting fields or limit customers to just a few fields. Create unique forms for feature requests and bug reports. Easily implement beta test bug reporting and customer support with SoloSubmit.
We'll nag you.
Our time-based escalation rules ensure your customer issues are responded to in a timely manner. TestTrack makes it easy to establish rules limiting how long issues remain unresolved before they are escalated.

Don't leave your customers in the dark.
Customers like to be updated and we can help you do this. Per-issue notification lists are the key. Add a customer to an issues notification list and, when an issue enters a new state, we'll automatically email the customer a status update.
Capture the conversation
Integrated email support captures conversations between your developers, technical support, and customers, whether you are working in TestTrack or Office applications.
 In our blog: Using the Microsoft Outlook Add-In

Instant Transparent Traceability.
Enforce good change practices.
Good change management practices dictate you link source code changes to the issues they resolved. Not only do we support this, we can help you enforce the process.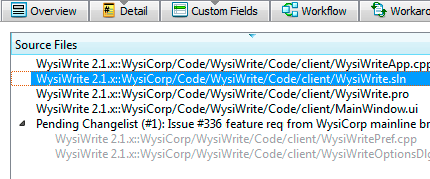 Know what failed and why.
When you use TestTrack for test management too, it will automatically link defects with failed test runs to provide a traceable history of test failure and resolution.

Integrated Into Your Lifecycle.
Part of your IDE.
It's possible you live in your favorite IDE. That's OK, we'll live there with you. We integrate with all the popular ones so you can create, update, and close out issues without leaving home.
Capture functional automation results.
When automating the testing of web, Windows, or Java applications with QA Wizard Pro, we will automatically import any defects found. So if you run scripts overnight, we'll have warm defects waiting for you in the morning.

SDK: Open for integration.
With our SOAP-based SDK, you can automate processes, build custom solutions, and exchange data between TestTrack and other applications.
Our professional services team is always ready to help out with custom tool integrations.
Unify teams with JIRA support.
TestTrack includes out-of-the-box integration with JIRA. So if you need to create a JIRA issue from a failed test case or attach a JIRA issue to a requirement, TestTrack has you covered.